Chewing on Leadership, hosted by Vermont leaders creates a potent platform for relevant questions and meaningful dialogue about current events.  This 45 min event looks at what inspires us in our work and ways to impact with leaders and change makers across Vermont
Next Topic:
Beyond Polarization: Strategies for Effective Communication to Bridge the Political Divide Part 1
Thursday April 20th
With Kesha Ram and Mark Snelling
Sign up here!  https://goo.gl/forms/QMrB5WLGIwgky4bs2
Kesha Ram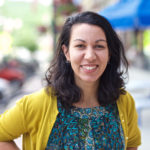 Kesha was elected at 22 to represent Burlington in the Vermont House of Representatives, and served four terms. She served on the House Ways & Means Committee, Housing & Military Affairs Committee, and Natural Resources & Energy Committee, where she was Vice Chair. In 2016, she left the legislature to run for Lieutenant Governor, falling short in her bid but becoming the first woman of color to earn a double digit share of the vote in a statewide race.
Throughout her legislative career, Kesha has passionately championed expanded tax incentives for statewide economic growth, green job creation, paid family leave, expansion of early and higher education opportunities, affordable housing, and civil rights. She has spearheaded the expansion of assistance to first-time homebuyers, protecting victims of domestic and sexual violence, and ensuring Vermonters do not have to choose between a paycheck and taking care of a sick child. Through all of these initiatives, Kesha has focused her energy on building an economy that works for all of Vermont and creates pathways out of poverty.
Kesha is now the Interim Director of the Center for Whole Communities, working at the intersection of conservation and social justice. She has also worked as the Public Engagement Specialist for the City of Burlington Community and Economic Development Office, the  Legal Director for Steps to End Domestic Violence, and as a preschool teacher. She currently serves on the boards of Emerge Vermont, Justice for All, and the Vermont Natural Resources Council, and is a Truman Scholar and Oxfam "Sister on the Planet" Climate Change Ambassador.
Mark Snelling
Mark is the volunteer president of the Snelling Center. He is also president of Greenleaf Metals, a distributor of copper and brass wire products. He has owned and operated a number of businesses in the ski, bike and hardware industries. Mark served as chair of the Vermont Governor's Council of Environmental Advisors, and chaired the Governor's Commission on Downtowns and Growth Centers. He has previously served on the boards of Key Bank Vermont, the Vermont Land Trust, Medical Center Hospital of Vermont, and as Chair of Housing Vermont and the Vermont Youth Conservation Corps. Mark resides in Starksboro, VT with his wife Linda.