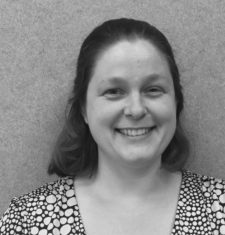 Mariah McGill
Director of Early Childhood Leadership Institute
Director of Early Childhood Leadership Institute
Mariah is the Director of the Early Childhood Leadership Institute and a 2016 graduate of ECLI.
Mariah is a native of Middlebury, Vermont and earned her BA from Sweet Briar College in Virginia. Mariah returned to Vermont after graduating from college and became an early educator in her home town. Becoming frustrated with the profound challenges faced by many families in her program, Mariah decided to go to law school with the goal of addressing the root causes of poverty and inequality in order to improve the lives of children. While attending law school at Northeastern University School of Law in Boston, Mariah discovered the field of human rights law and has been exploring the transformative power of human rights ever since. After graduating from law school, Mariah served as a Research Fellow and Associate Director at the Program on Human Rights and the Global Economy (PHRGE) at Northeastern for many years.
In addition to her work at ECLI, Mariah operates a consulting practice devoted to exploring the role that human rights values, principles and frameworks can play in informing policy and law and has authored numerous articles on this topic. Mariah has also served as an adjunct faculty member at the University of Massachusetts, Boston and as a mentor to graduate and undergraduate students engaged in human rights-related research.
Mariah lives in Waitsfield with her husband and young daughter.