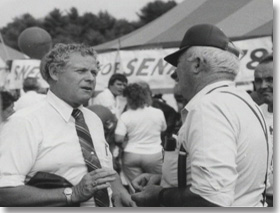 The Richard A. and Barbara W. Snelling Center for Government is a non-partisan, non-profit (501(c)3) corporation. Established in 1992 in memory of Governor Richard Snelling, the Snelling Center is committed to his vision of government that works for the people of Vermont.
In keeping with this vision, the mission of the Snelling Center is to foster responsible and ethical civic leadership, encourage public service by private citizens, and promote informed citizen participation in shaping public policy in Vermont. We work to fulfill our mission by:
Offering the premier leadership development programs in Vermont.
Engaging the public in issues of strategic importance to Vermont.
Consulting on projects to make government and government programs more effective.
Leadership Development
The Snelling Center has developed leadership programs to support Governor Snelling's passion for responsible and ethical leadership, democracy, and Vermont. The Vermont Leadership Institute, the Vermont School Leadership Project and other leadership programs and projects provide participants with the skills to work effectively in the public arena, and to make thoughtful decisions and take well-considered action as they serve their organizations, their communities and Vermont.

Civic Engagement in Public Policy Issues
From its inception, the Snelling Center for Government has undertaken many policy projects, emphasizing asset-based collaborative processes and broad-based participation. Projects include public discussions on term lengths for elected state officials, transportation infrastructure funding, the future of economic development, and building community in a connected age or "e-state".

Consultation and Facilitation Projects
The Snelling Center provides assistance to improve the efficiency and effectiveness of government programs and projects. Recent work includes assisting AARP on the Burlington Livable Cities Project, facilitating public discussions on the Agency of Transportation's long range plan for the state, and the GBIC's Green Economy project. Since 1994, the Snelling Center, in partnership with the Vermont Legislative Joint Fiscal Office and the Legislative Council, holds a comprehensive Legislator Orientation at the State House for newly elected officials.