PURPOSE
The Early Childhood Leadership Institute was initiated in 2014 and seeks to stimulate enthusiasm for and effective participation in efforts to improve early childhood work in Vermont. A group of diverse participants will come together each year for twelve seminar days over six months, to gain leadership skills and a deeper knowledge and understanding of the science and landscape of early childhood issues in Vermont. ECLI will give participants the information, tools and inspiration to make greater contributions in their organizations, their communities and Vermont toward early childhood issues. ECLI Associates will join a professional network of over 1000 Vermont Leadership Network Alumni, with more than 125 Early Childhood Leadership Institute graduates to date.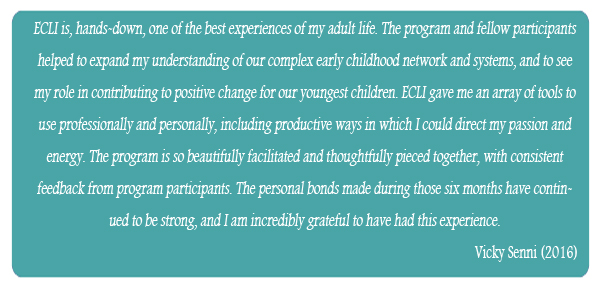 PROGRAM FORMAT
ECLI is an intensive program consisting of six overnight sessions, totaling twelve seminar days. Each session is held in a different region of the state to convey a sense of Vermont's rich historic, geographic and cultural diversity.
KEY PROGRAM FEATURES
ECLI recruits diverse participants from the private, public and nonprofit sectors.
ECLI engages outstanding faculty from across the state and throughout the nation.
Participants learn directly from their peers and a variety of other field experts and their stories.
Experiential activities, tools and small-group conversations encourage exploration of individual and organizational values and options.
The learning environment features an appreciative, collaborative approach and lively interaction.
Thoughtful support for and among participants—before and during sessions—develops from the very beginning.
Earn 3 Graduate Credits
ECLI and the VT Program Director Credential (with the 3 graduate credit class)
The Program Director Credential recognizes early childhood and afterschool professionals who have gained the Competencies for Program Directors of Early Childhood and Afterschool Programs. Achievement of this credential is a sign of quality and leadership in the field. ECLI is equivalent  to the Leadership, Mentoring and Supervision course requirement for the Program Director Step 2 certificate. ECLI assignments may in some cases be appropriate to meet certain competency documents for the Program Director Step 3 portfolio.

PERSONAL AND PROFESSIONAL OUTCOMES FOR PARTICIPANTS
Understanding of yourself and of your impact on others
Growing knowledge and understanding of the science and landscape of early childhood issues in VT
Habits of curiosity, inquiry, listening and reflection
Ability to bring a systems perspective to key early childhood issues in Vermont
Awareness, empathy, and authentic engagement with those of differing backgrounds, viewpoints, and styles
Positive approach to opportunities and lifelong learning
Heartfelt connections and a focus on collaborative leadership
Optional 3 Graduate Credit Course – Early Childhood Leadership: Self Reflection and Inquiry
Click Here for Information About How to Apply
Early Childhood Leadership Institute 2020 Update

Recruitment for the Early Childhood Leadership Institute (ECLI) is currently on hold. Vermont did not receive federal funding for the Pre-School Development Grant, which has impacted our funding streams and ability to offer a substantial tuition subsidy. In addition, the current uncertainty surrounding COVID-19 has made timing difficult. We believe ECLI is critical to the future of early childhood efforts in Vermont and are therefore working hard in hopes that a new cohort can begin later this year; we appreciate your support and understanding in the meantime. If you are interested in ECLI and would like to be notified when additional details become available, please click here.